Regular price
Sale price
$943.00
Unit price
per
Sale
Sold out
Share
Early to mid. 19th century, Utsang province, Tibet
Fabulous aged Tibetan small-sized wooden chest. Extraordinary sloped shape, with scallop edged lid and reinforced with decorative brass metal work along the edges. Small portable chests like this were used for storing or transporting valuable treasures, while traveling or in the home. This gorgeous object is an excellent example of the high quality Tibetan painting techniques and features a mongooses spitting colored jewels. Both sides with the intricate Snow Lions designs and the Three Precious Jewels symbols. The mongoose (Sanskrit nakula, Tib. ne'u-le) or "treasure mongoose" (Tib. gter-gyi ne' u-le), which disgorges a shower of jewels from its open mouth, is a main left-handed attribute of wealth deities, such as Jambahala, Kubera, or Vaishravana. As a traditional enemy of Nagas and snakes (both treasure guardians), the mongoose is usually seen spitting out colored jewels of wisdom or Cintamani. The Snow Lion (Tib. gnyan/gangs seng ge) is the national emblem of Tibet. It resides in the eastern Himalayas and represents unconditional cheerfulness, a mind freed from doubt, clear and precise. The body of the Snow Lion is pure white while its flowing mane, beard, tail, and foot fluffs is either blue or green. The Three Jewels or triple gem (Sanskrit triratna, Tib. dkon-mchog gsum) are The Buddha, the fully enlightened one (the yellow jewel), The Dharma, the teachings expounded by the Buddha (the blue jewel), and the Sangha, the monastic order of Buddhism that practise Dharmas (the red jewel). 
Beautiful small chest are in excellent condition. Leather covered wood with original clasp. The interior is unfinished. Repaired. Deep dark patina. A newer layer of varnish on the older paint surface. Age-related wear and light scratches. Size approx. 27,5cm x 38,5cm x 22,0cm.
Provenance: Finnish private collection
References and further reading:
The Handbook of Tibetan Buddhist Symbols, Robert Beer, Serindia Publications, 2003.
In the Presence of Masters: Wisdom from 30 Contemporary Tibetan Buddhist Teachers, Reginald A. Ray, Boston, Massachusetts: Shambhala Publications, 2004.
A View on Buddhism, Tibetan Buddhism Symbols. (https://viewonbuddhism.org/symbols_tibet_buddhism.htm)
View full details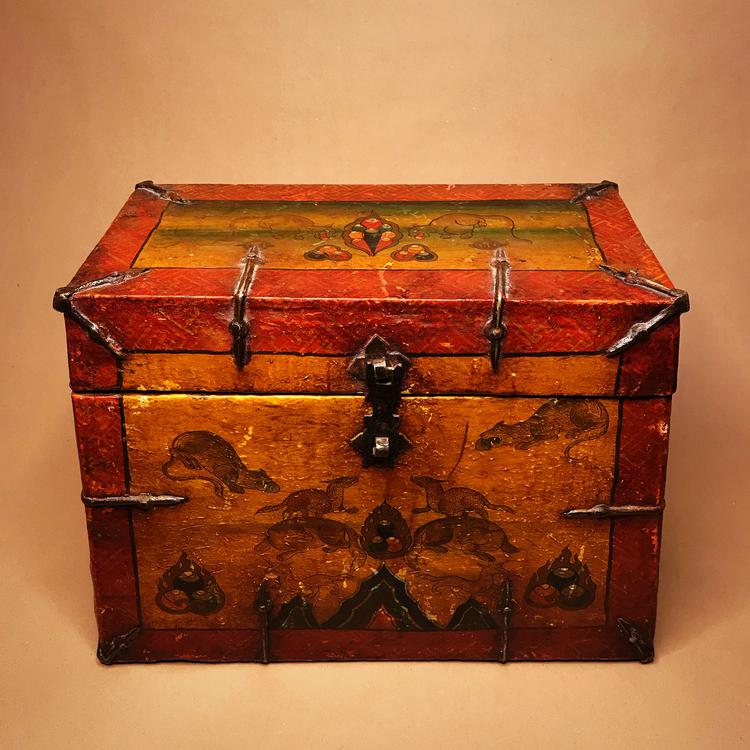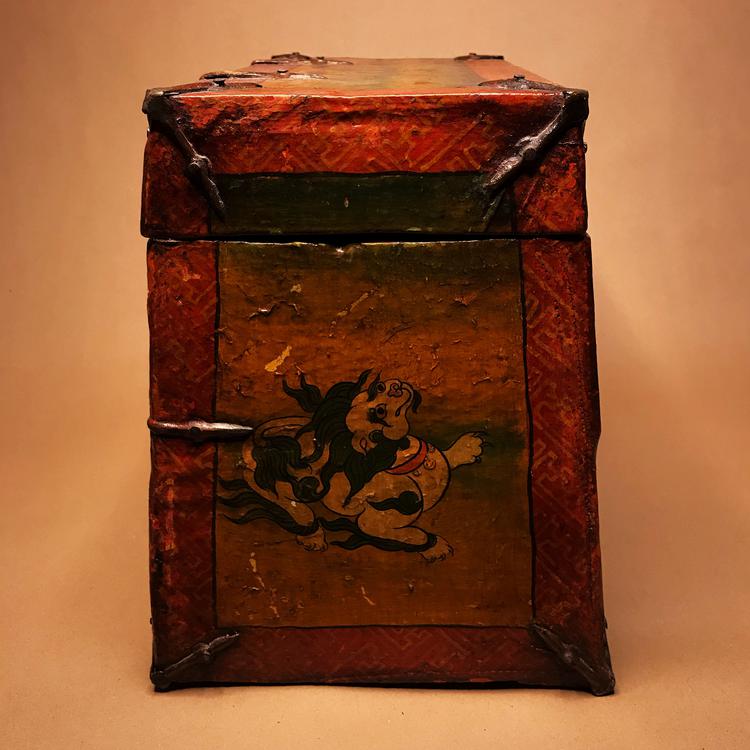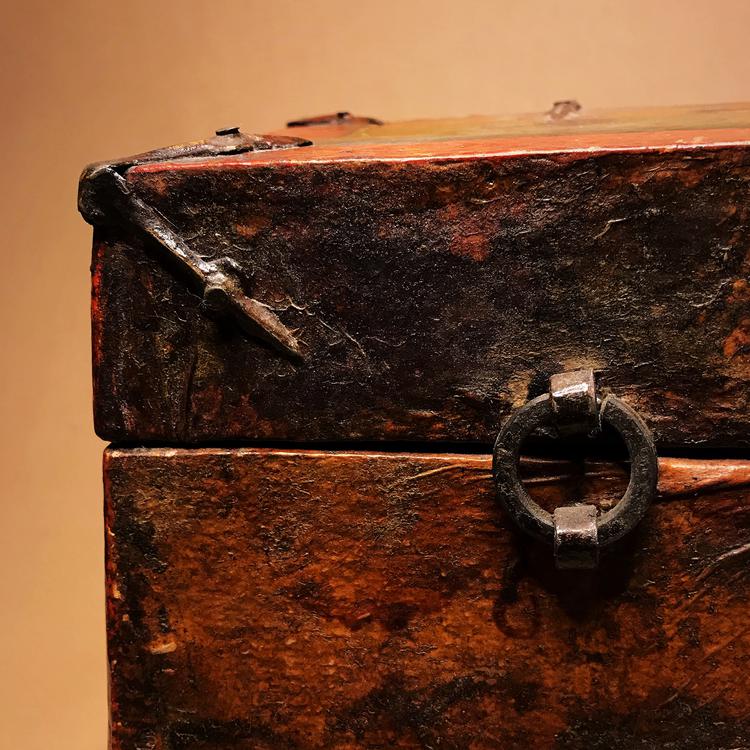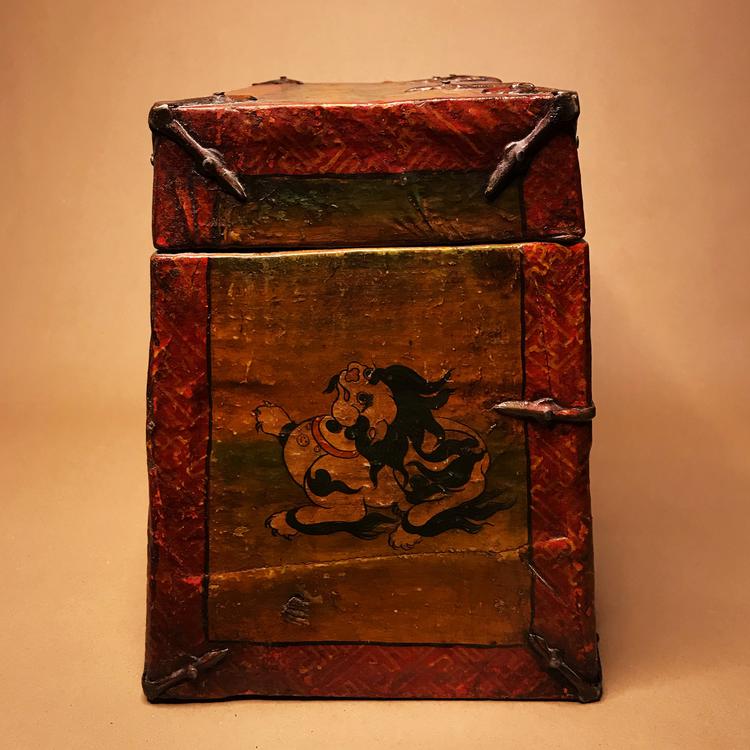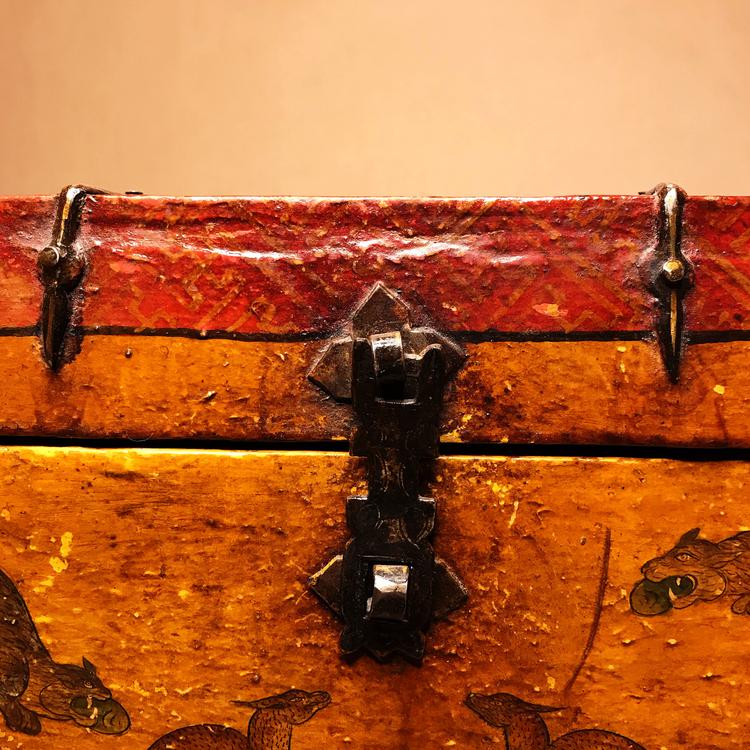 Shipping

The shipment will be prepared in the course of 3-5 days and dispatched via Posti Group Oyj or purchased item(s) can be picked up from our shop during the store's opening hours (Tarkk'ampujankatu 4, 00140, Helsinki, Finland). Within the Finland, all items are shipped via Posti Group Oyj unless otherwise requested. We pack the items carefully and mainly in recycled materials because we want to save nature. You will receive the tracking number for your items by e-mail.

Returns

Returns and exchange will be accepted within fourteen days (14) of receipt at the purchaser's cost to include freight and packaging. Items must be returned in the same condition as when they were shipped, and will not be accepted if damaged or altered in any way. Please inform us via email (info@gotanmaailma.fi) or by calling +358408408352 before sending. We do not accept returns more than 14 days after delivery.