Regular price
Sale price
$495.00
Unit price
per
Sale
Sold out
Share
18th century or earlier, Tibet
Absolutely stunning and high aged crown consists of five leaf shaped segments, which are sewn and joined together with cotton strings and fabric straps. The segments are made of thick multilayered local made paper and the frontsides are showing wonderful Buddha manifestations with great colors. Such crowns or diadems were worn by Buddhist priests or monks conducting rituals and were often part of dance costumes used in public ceremonial performances, during empowerment rites, religious rituals, and especially priestly intiation rites. One of the Five Cosmic Buddhas decorates each panel, which are arranged as on a mandala, or cosmic  diagram, represents an aspect of the initiate's transmuted perfection, and the crown is worn to mark the dissipation of his selfhood into the dharmakaya.
Each of the hand painted segment contains one of the Five Buddhas of the five directions, also known as the Five Symbolic Buddhas. Ratnasambhava (yellow), Amitabha (red), Vairochana (white), Amoghasiddhi (green), and Akshobhya (blue). With Vairochana at center, these Buddhas preside over the directional Pure Lands. Each of the Five Buddhas are associated with their own family (Kula) and the conversion of the Five Mind Poisons into the Five Wisdoms. The back of each panel also painted with an encircled empowering mantra syllables Om, Hung, Tam, Hri, and Aa in Ranjanā (Lantsa) letters according to the Five Buddhas: Vairochana (Om), Akshobhya (Hung/Hum), Ratnasambhava (Tam/Tram), Amitabha (Hri) and Amoghasiddhi (Aa/Ah). When these Buddhas are represented in mandalas, they may not always have the same colour or be related to the same directions. In particular, Akshobhya and Vairocana may be switched.
Unique ritual crown are in good condition. Opaque watercolour and ink on thick paper. Age-related heavy wear and signs of of ritual use. Gorgeous darkened surface patina. Abrasion and tears. Ties are worn and marked. Size of each segment approx. 18,0cm x 11,0cm.
Provenance: Finnish private collection
For a similar examples see:
Ritual Crown with the Five Transcendent Buddhas, The Metropolitan Museum of Art, Accession Number: 1985.391 (https://www.metmuseum.org/art/collection/search/37789)
Ritual Crown (diadem), Minneapolis Institute of Art, Accession Number: 98.52 (https://collections.artsmia.org/art/5778/ritual-crown-tibet-or-china)
References and further reading:
The Handbook of Tibetan Buddhist Symbols, Robert Beer, Serindia Publications, 2003.
In the Presence of Masters: Wisdom from 30 Contemporary Tibetan Buddhist Teachers, Reginald A. Ray, Boston, Massachusetts: Shambhala Publications, 2004.
A View on Buddhism, Tibetan Buddhism Symbols. (https://viewonbuddhism.org/symbols_tibet_buddhism.htm)
View full details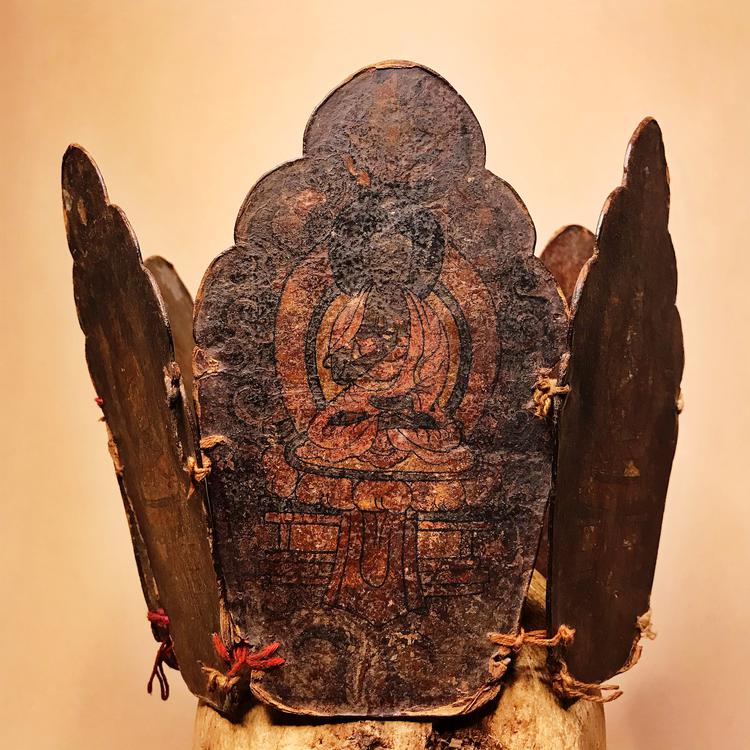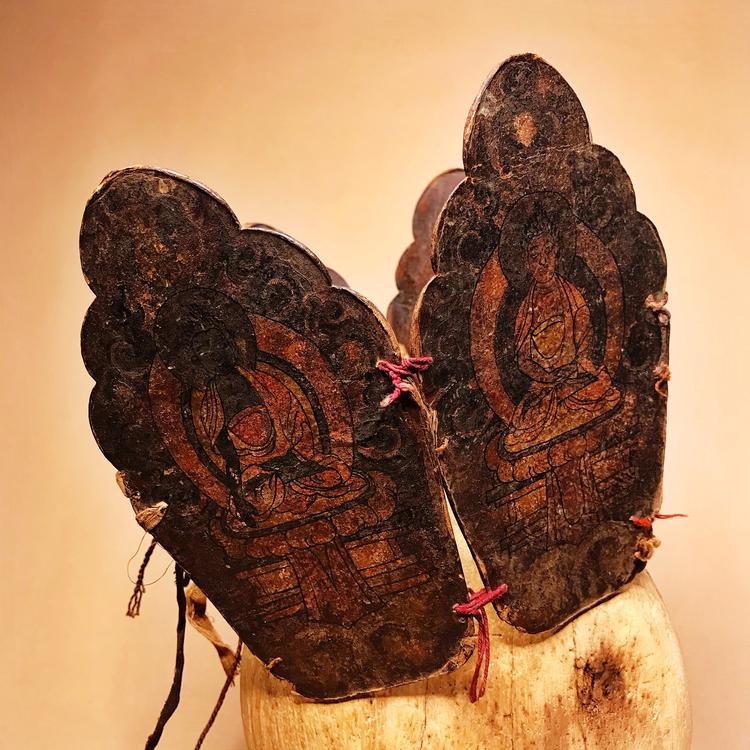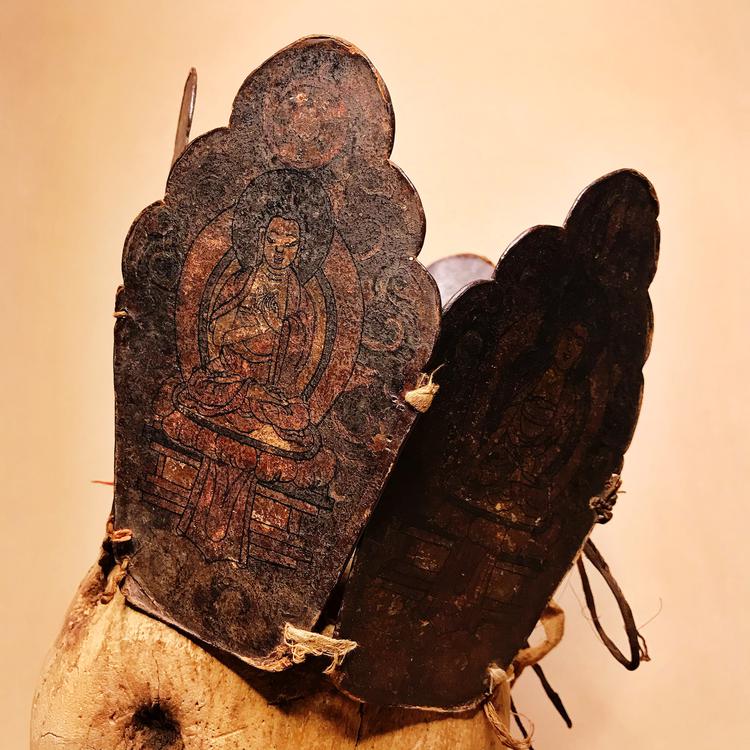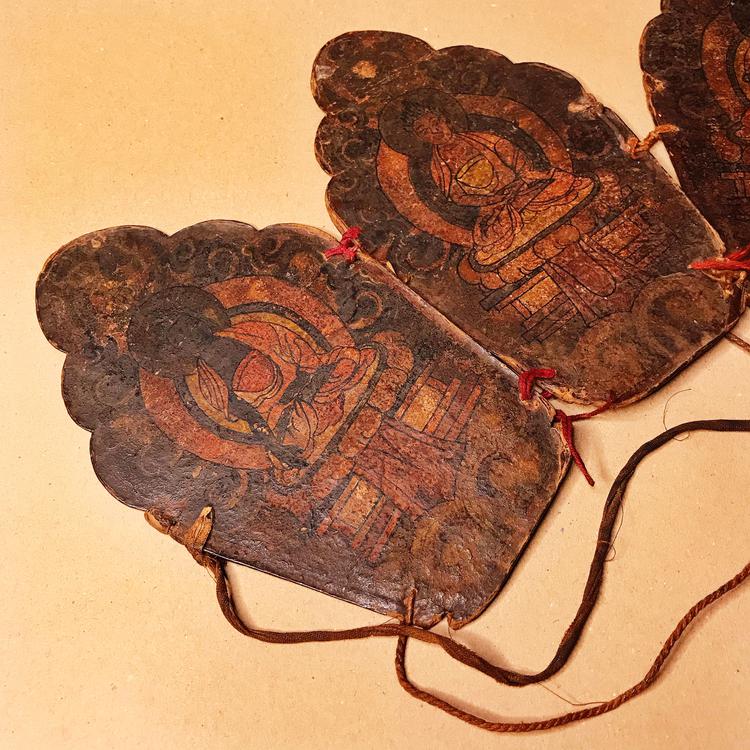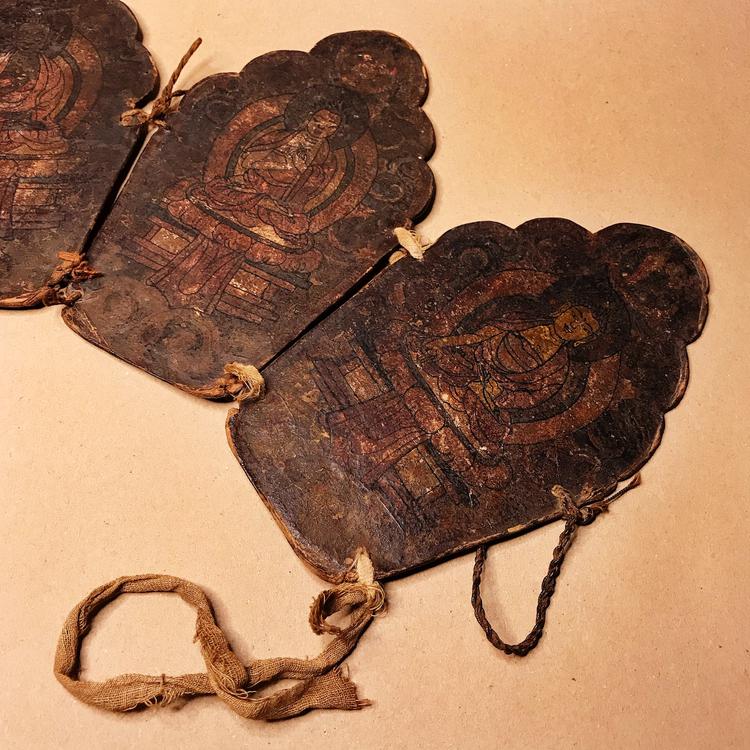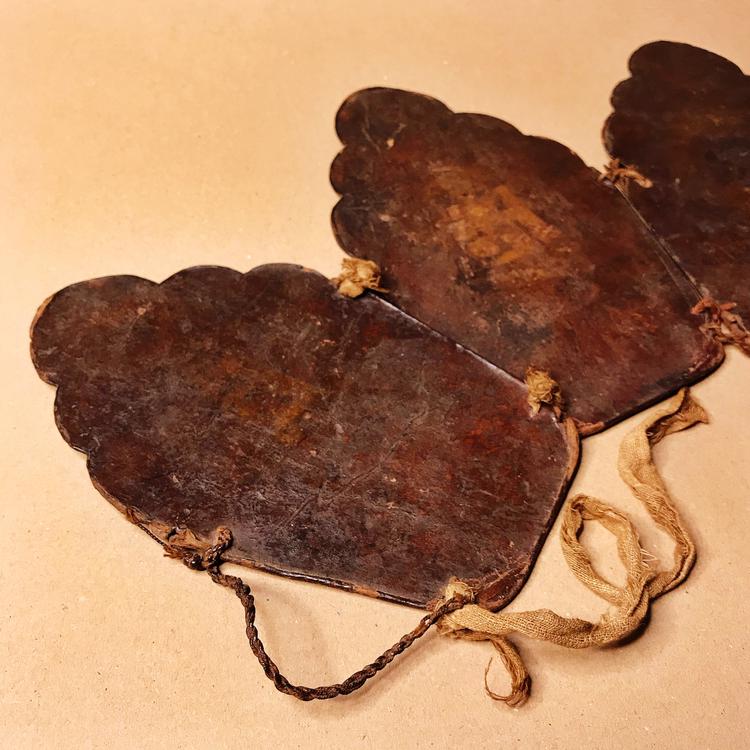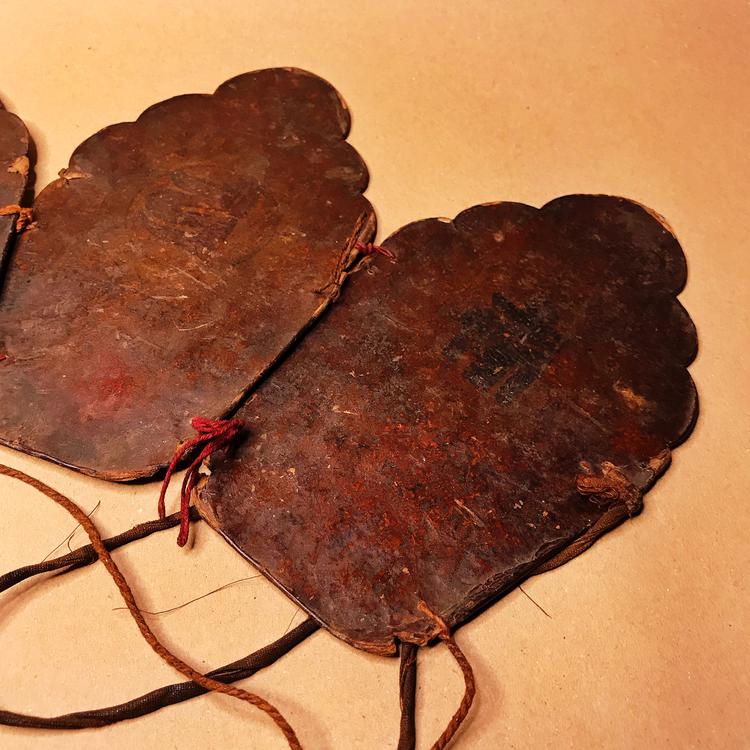 Shipping

The shipment will be prepared in the course of 3-5 days and dispatched via Posti Group Oyj or purchased item(s) can be picked up from our shop during the store's opening hours (Tarkk'ampujankatu 4, 00140, Helsinki, Finland). Within the Finland, all items are shipped via Posti Group Oyj unless otherwise requested. We pack the items carefully and mainly in recycled materials because we want to save nature. You will receive the tracking number for your items by e-mail.

Returns

Returns and exchange will be accepted within fourteen days (14) of receipt at the purchaser's cost to include freight and packaging. Items must be returned in the same condition as when they were shipped, and will not be accepted if damaged or altered in any way. Please inform us via email (info@gotanmaailma.fi) or by calling +358408408352 before sending. We do not accept returns more than 14 days after delivery.