Regular price
Sale price
$385.00
Unit price
per
Sale
Sold out
Share
Atoni people, late 19th or early 20th century, West Timor, Indonesia.
Absolutely fascinating aged ceremonial carved wooden mask originates from the Atoni people of Timor. The Atoni (called also Atoin Meto, Atoin Pah Meto or Dawan) are predominant people of Timor, easternmost of the Lesser Sunda Islands, Indonesia. The name "Atoni" means "man, person" and is short for "Atoin Pah Meho" (People of the Dry Land). According to famous ethnographer Clarke Cunningham, the Atoni culture is notable for its spatial symbolism associated with a gender dichotomy. Male-female principle is important, as with duality like inside-outside, wet season-dry season, light-dark, warm-cold etc. Alhough Christanity was introduced by missionaries after 1910, traditional animism and religious rites of passage, modified somewhat by earlier Hindu influence, continue to be important. The Atoni honour a Lord of Heaven and a Lord of Earth, as well as ancestor spirits and forces of the hidden world. Skulls are inscribed and carved for various reasons. Generally it is to do with the crop success and the general wealth of the owner. The island of Timor gave rise to a distinctive tradition of masks whose precise origins and significance remain uncertain. Ancestor masks portray both male and female ancestors, they were worn by men during important dances and other ceremonies, funerary rites as well celebrations of victory in war. Some masks were kept on the altar during the sacrifices, in some areas masks were put inside the huts to protect the household from malevolent spirits.
Mesmerizing Atoni ancestral mask crafted from a single block of hard wood and has a wonderful rugged texture and form of roots. Due to a heavy smoked black patina, it suggests that this mask has been used inside for protecting the house of evil spirits. Age-related wear, chip and old fractures. Size approx. 30,0cm x 23,0cm x 6,5cm.
Provenance: Finnish private collection
References and further reading:

Atoni Borrowing Of Children: An Aspect Of Mediation, Clarke E. Cunningham,  American Ethnological Society Proceedings, Annual Spring Meeting, Seattle, 1965. 
Categories Of Descent Groups In A Timorese Village, Clarke E. Cunningham, Oceania 37, 1966, pp 13-21.
View full details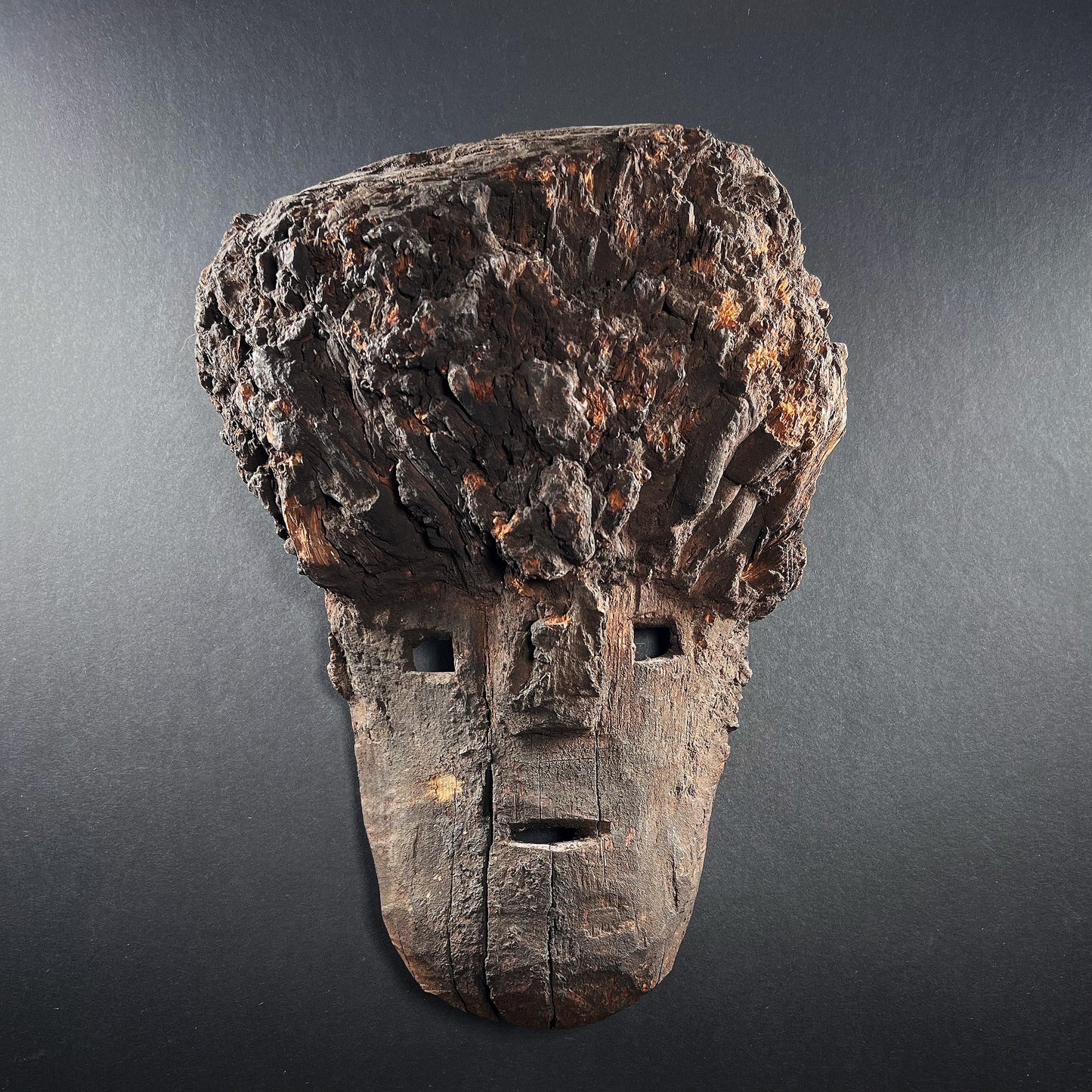 Shipping

The shipment will be prepared in the course of 3-5 days and dispatched via Posti Group Oyj or purchased item(s) can be picked up from our shop during the store's opening hours (Tarkk'ampujankatu 4, 00140, Helsinki, Finland). Within the Finland, all items are shipped via Posti Group Oyj unless otherwise requested. We pack the items carefully and mainly in recycled materials because we want to save nature. You will receive the tracking number for your items by e-mail.

Returns

Returns and exchange will be accepted within fourteen days (14) of receipt at the purchaser's cost to include freight and packaging. Items must be returned in the same condition as when they were shipped, and will not be accepted if damaged or altered in any way. Please inform us via email (info@gotanmaailma.fi) or by calling +358408408352 before sending. We do not accept returns more than 14 days after delivery.