Regular price
Sale price
$714.00
Unit price
per
Sale
Sold out
Share
Turkmens, Teke people, early 20th century, Ahal Region, Turkmenistan, Central Asia.
Absolutely fantastic, old and massive Turkmen Teke amulet holder are handcrafted in fire-gilded silver during the early 20th century. Tumar is the most prestigeous element in a women's wedding regalia. The Turkmens (Turkmen: Türkmenler) are a Turkic ethnic group native to Central Asia, living mainly in Turkmenistan, northern and northeastern regions of Iran and north-western Afghanistan. Sizeable groups of Turkmens are found also in Uzbekistan, Kazakhstan, and the North Caucasus. The Turkmen have a long history in Central Asia, but little is known about their early history because they did not keep written records. Economically, Turkmen lived along a continuum from nomadic herders to settled farmers, depending on their local environment. Groups who lived closer to oases or the Amu Darya River produced most of their food through farming, but also relied on some herding and trade. Groups in the desert regions were mostly pastoralist. Turkmens simple lifestyle in the desert and steppe area has influenced the development of a rich material culture, whose most characteristic features are the intricate carpeting, complicated embroidery and elaborate carnelian jewellery.
The Turkmen jewellery was crafted both for cosmetic and spiritual reasons, and the amount of jewellery an individual adorned themselves with was equated to the person's rank in society. Significant in size and weight, jewelry objects were made of silver, engraved, and sometimes gilded for an added color effect and value. What separate the decoration of Turkmen jewellery is the use of a semi-precious stones. The most popular are carnelian because they are believed to protect the wearers from illness and death. Its bright red colour symbolises vitality, fertility and happiness.
Common shapes found on Turkmen jewelry include stylized mountains, animals, horns, and plants. The mountain motif is part of the Turkmen creation story and is significant for its ancestral and heavenly connection. The Ustyurt mountain sheep or mountain ram is a sacred animal to the Turkmen and, its horns are frequently used in rituals. The double leaf and two-leafed flower motifs are connected to the growth of human existence, and are part of a long-established decorative tradition. Turkmen jewellery is known by its extensive repertoire of silver jewelry pieces and other decorative objects. These include, among others, traditional forehead ornaments (sulsuleh) and on the temples (chckeliki), gorgeous ceremonial necklaces (bukau), massive bracelets (bilezik), heart-shaped ornaments (asyk) and amulets (tumar), as well as circular (guliaka) and diamond-shaped (changa) pendants worn on a daily basis. 
The massive pectoral pendant or amulet holder called tumar is based on the principle of the rhombus which consists of three parts. The fire-gilded silver upper part with the symbolic mountain motif, embellished with cabochon-cut red glass. A middle part consisting of a cylindrical tube (bozbend). It would have held a Muslim prayer scroll, thus enhancing the talismanic powers of the entire piece. The lower part consisting of an inverted mountain motif with woollen cloth underlay coloured red and green, from which silver, luminous world-spheres fall as pendants, which produced a pleasant sound. Gorgeous antique tumar are in good condition. One chain with pendant and sphere are missing. Good condition. Age-related wear and signs of use. Size approx. 32,5cm x 32,0cm x 2,2cm.
References and further reading:
Britannica, The Editors of Encyclopaedia. "Turkmen". Encyclopedia Britannica, 27 Sep. 2012. (https://www.britannica.com/topic/Turkmen-people)
Who Are the Turkmen?, The Metropolitan Museum of Art.(https://www.metmuseum.org/learn/educators/curriculum-resources/art-of-the-islamic-world/unit-six/chapter-three/who-are-the-turkmen)
Kyrgyz, Turkmen, and Karakalpak nomads, Histories of Central Asia, Shoshana Keller, Adeeb Khalid & Robert D. McChesney, Hamilton College.(https://academics.hamilton.edu/central-asian-history/keller-pastoralist-nomads)
The Turkmens. The art of everyday life, The Asia and Pacific Museum, 2017.(https://www.muzeumazji.pl/en/temporary-exhibition/the-turkmens-the-art-of-everyday-life/)
Turkmen Jewelry, Department of Islamic Art, In Heilbrunn Timeline of Art History, New York: The Metropolitan Museum of Art, August 2011 (http://www.metmuseum.org/toah/hd/turk/hd_turk.htm)
View full details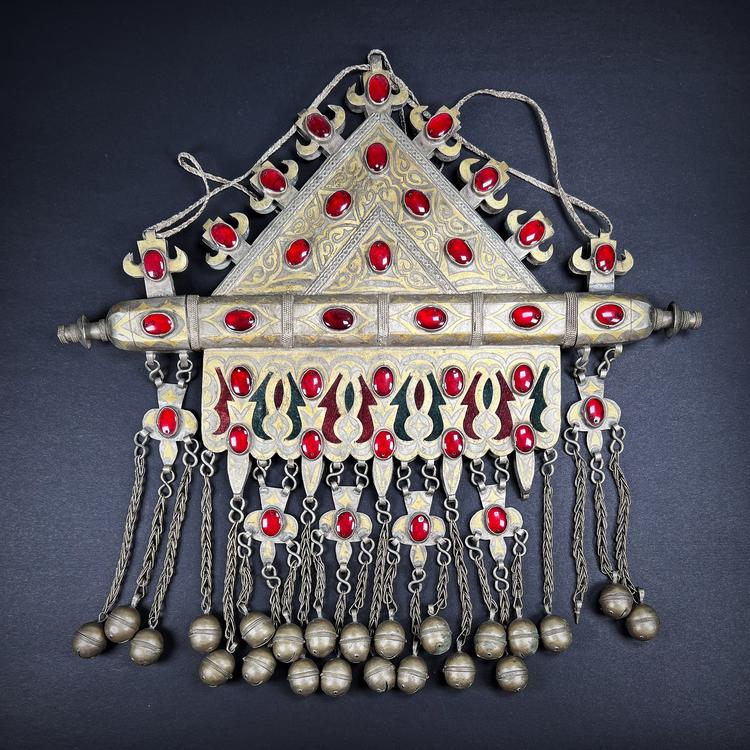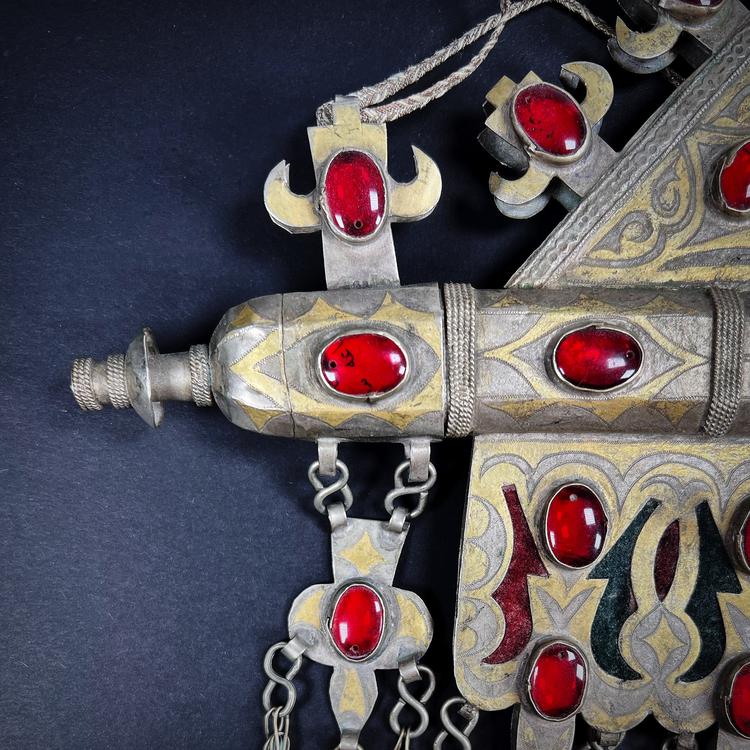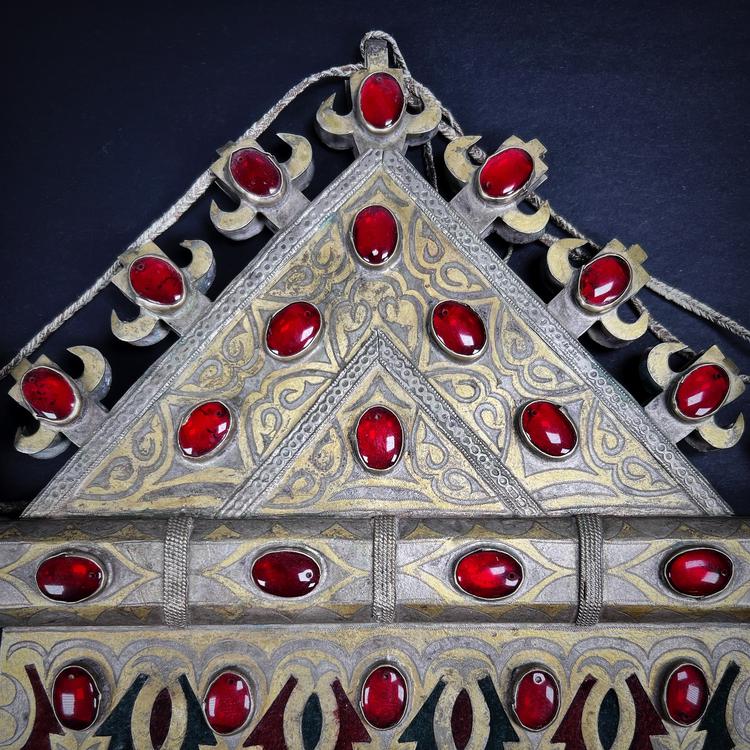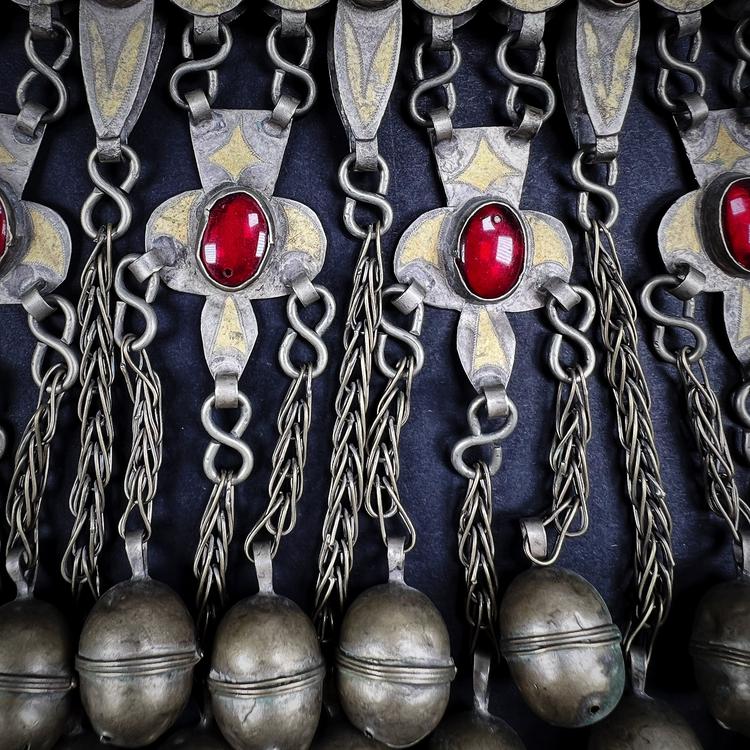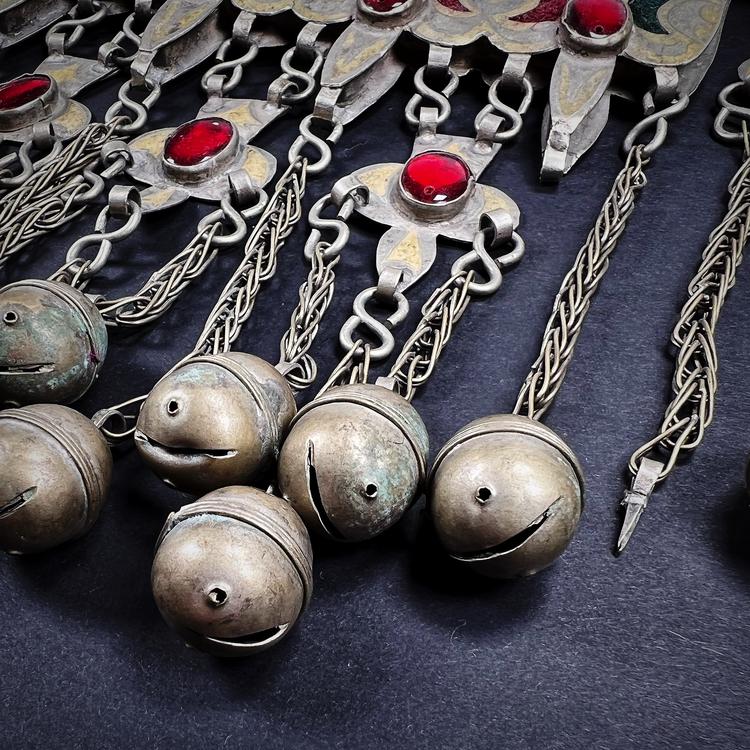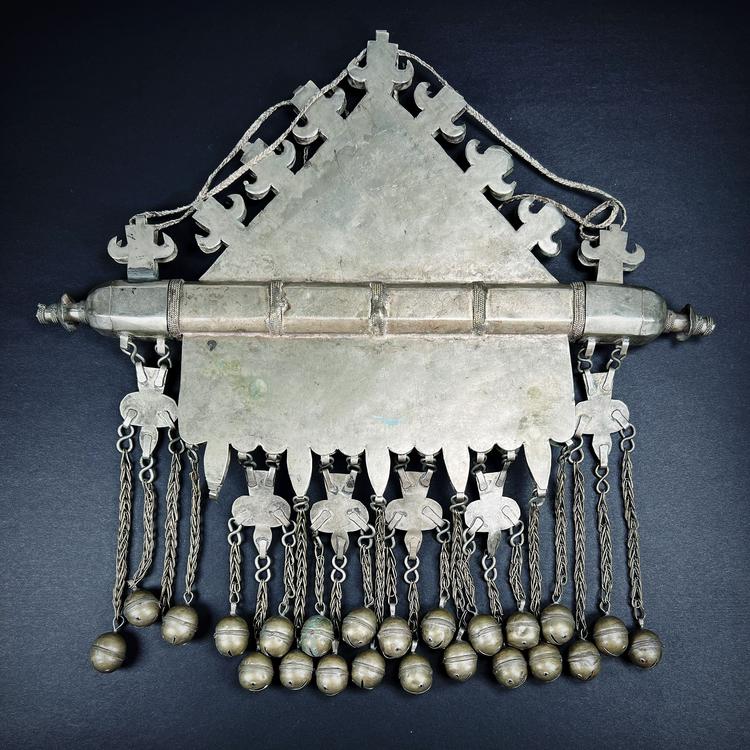 Shipping

The shipment will be prepared in the course of 3-5 days and dispatched via Posti Group Oyj or purchased item(s) can be picked up from our shop during the store's opening hours (Tarkk'ampujankatu 4, 00140, Helsinki, Finland). Within the Finland, all items are shipped via Posti Group Oyj unless otherwise requested. We pack the items carefully and mainly in recycled materials because we want to save nature. You will receive the tracking number for your items by e-mail.

Returns

Returns and exchange will be accepted within fourteen days (14) of receipt at the purchaser's cost to include freight and packaging. Items must be returned in the same condition as when they were shipped, and will not be accepted if damaged or altered in any way. Please inform us via email (info@gotanmaailma.fi) or by calling +358408408352 before sending. We do not accept returns more than 14 days after delivery.