Regular price
Sale price
$824.00
Unit price
per
Sale
Sold out
Share
Pre-Columbian era, Vicús culture, c. 500BC to 600AD, Piura Region, Peru
Fantastic, rare and highly unusual Vicús phytomorphic hanging vessel depicts a stylized vegetable, probably the Yacón (Smallanthus sonchifolius) root. Yacón has yellow flowers and sweet-tasting, tuberous roots that is high in sugar and starch. Another name for yacón is Peruvian ground apple, possibly from the French name of potato, "pomme de terre" (ground apple). Yacón and other phytomorphic effigy vessels may have been placed in Vicús burials as nourishment for the deceased, offering to lords of the other world or in commemoration of specific occasions. 
Vicús was an important early culture in the northernmost part of the Pacific coastal area of Peru. Archaeologically the culture is not yet clearly dated, and various sources give different dates, starting somewhere between 1000BC and 200BC and lasting until between 300AD and 600AD. Its administrative headquarters, located in the "Cerro Vicús", at an altitude of 170 meters above sea level, and which gives its name to this culture, served as a link with other Andean cities located further north. The most important feature of this culture is agriculture, the basis for their economic development. It is known that they cultivated squash, corn and some fruits, with advanced irrigation systems. These activities were complemented by livestock or hunting. Vicús were known for their work in ceramics, copper, and gold. The Vicús ceramics was influenced by the Salinar and Gallizano cultures and from the direction of Ecuador. Both a sculptural nature and painted ornamentation were typical of the design of the artefacts. Its vessel forms and iconographic motifs are similar to those of the better known Moche style, yet its color, modeling, and surface decoration seems more Ecuadorian.
Intriguing, round-bottomed vessel has a organic bulbous form. Atop the burnished body is a gently tapered spout surmounted by a circular suspension loop decorated with cream and white stripes across the russet-hued surfaces. Good condition. Age-related wear, chip and abrasion. Repaired suspension loop. Size approx. 19,0cm x 14,0cm x 10,5cm.
Provenance: According to information, from the collection of Paul Ragnar Wedendal Sr. & Paul Wedendal Jr. Wedendal Sr. acquired Pre-Columbian art during his travels in the 1940s-1950s.
View full details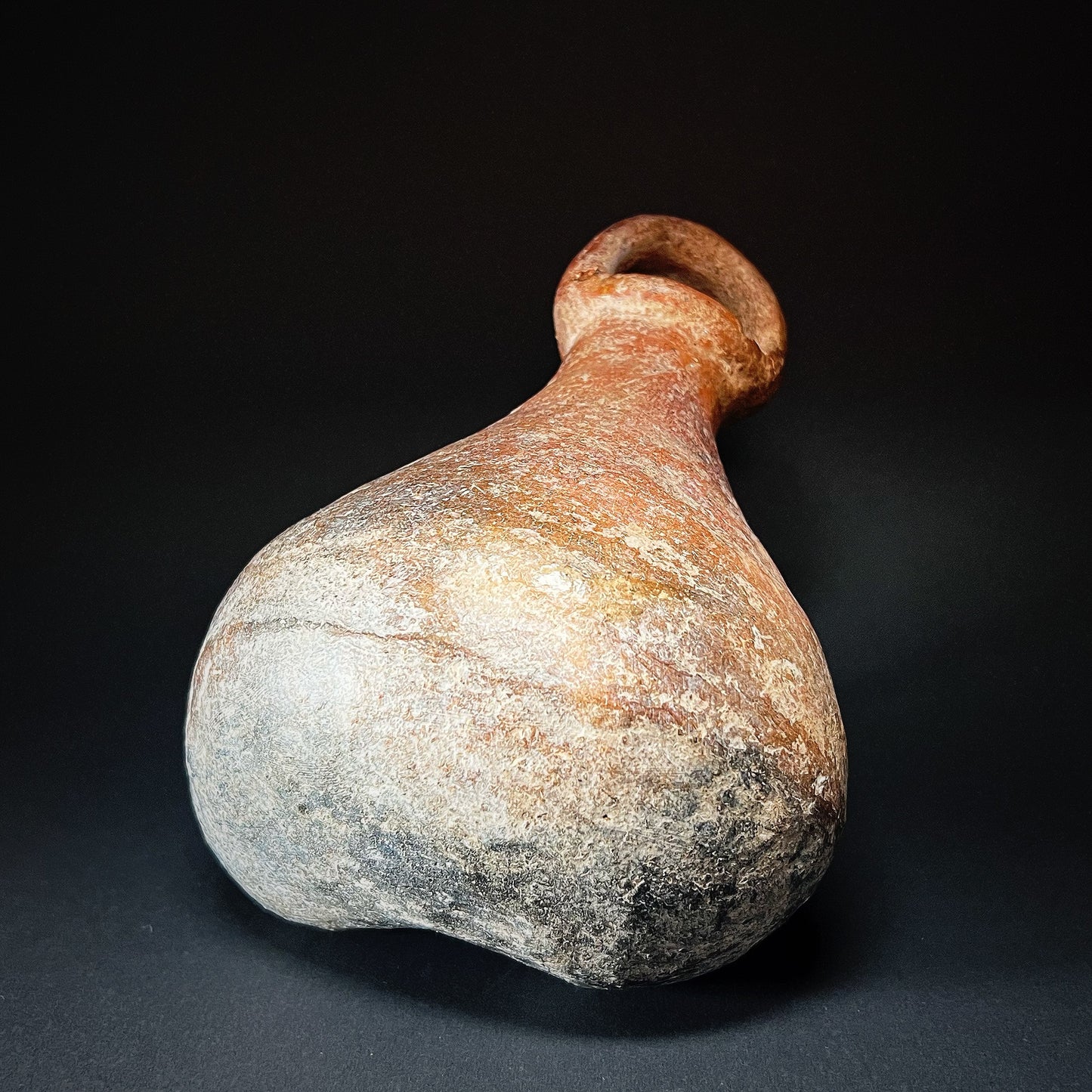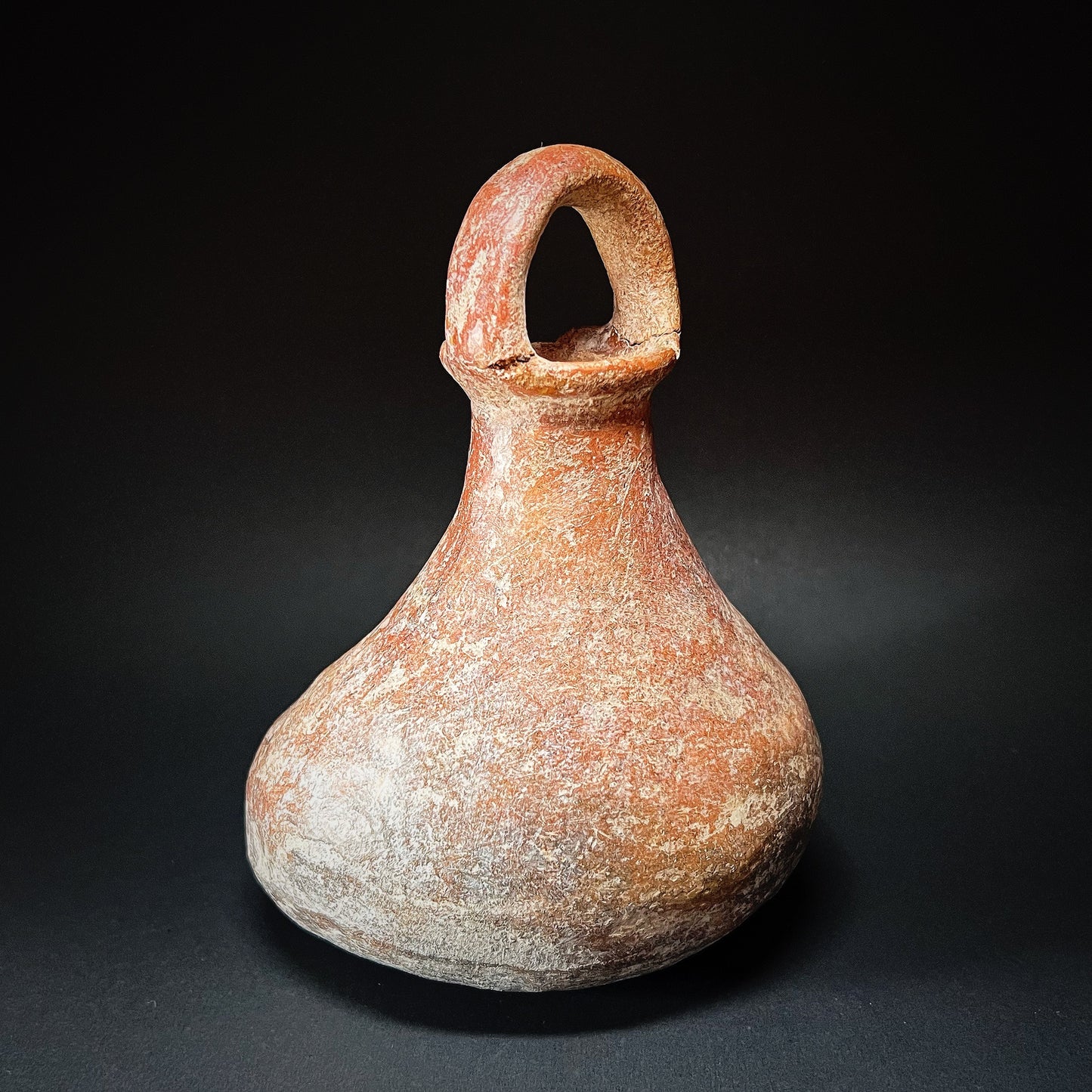 Shipping

The shipment will be prepared in the course of 3-5 days and dispatched via Posti Group Oyj or purchased item(s) can be picked up from our shop during the store's opening hours (Tarkk'ampujankatu 4, 00140, Helsinki, Finland). Within the Finland, all items are shipped via Posti Group Oyj unless otherwise requested. We pack the items carefully and mainly in recycled materials because we want to save nature. You will receive the tracking number for your items by e-mail.

Returns

Returns and exchange will be accepted within fourteen days (14) of receipt at the purchaser's cost to include freight and packaging. Items must be returned in the same condition as when they were shipped, and will not be accepted if damaged or altered in any way. Please inform us via email (info@gotanmaailma.fi) or by calling +358408408352 before sending. We do not accept returns more than 14 days after delivery.