Regular price
Sale price
$83.00
Unit price
per
Sale
Sold out
Share
The Viking Age, 793-1066AD, Scandinavia.

Fascinating collection of three small-sized cast bronze fragments, probably clothing clasps. The Viking Age was the period during the Middle Ages when Vikings undertook large-scale raiding, colonizing, conquest, and trading throughout Europe and reached North America. Just like men and women today, the Vikings dressed according to sex, age and economic status. While variations did exist, throughout the Viking era and across the Viking lands, clothing styles were remarkably consistent. The men wore a trousers and tunic that was tight fitting across the chest with a broad skirt, whilst the women wore a long shift with a suspended overdress. Both men and women wore a long cloak or a jacket to provide warmth and protection in harsh weather. Ordinary Viking textiles were mainly made from locally available raw materials, in Scandinavia these were: wool, nettle, hemp and flax, woven by the women. The Vikings supplemented their attire with jewellery and furs from different animals. Men and women from all layers of society wore jewellery, in the form of necklaces, bracelets, finger and toe rings, armrings, amulets and pendants, armbands, beads, and brooches. Some of the jewellery was ornamental and it could also indicate wealth. Other items, such as brooches, often had a practical function as well, to fasten clothes. 
A set of bronze clothing clasps are in good condition. Age-related wear, corrosion and soil. Fine encrusted green patina. Size varies from 2,0cm to 2,5cm. Sell as a set.
Provenance: Dutch private collection.
References and further reading:
Clothing in the Viking Age, Hurstwic, William R. Shor, 1999-2023 (https://www.hurstwic.org/history/articles/daily_living/text/clothing.htm)
Tracing Textile Production from the Viking Age to the Middle Ages: Tools, Textiles, Texts and Contexts, Ingvild Øye, Oxbow Books, 2022. (https://doi.org/10.2307/j.ctv2mm1xqj.)
Textiles in a Viking Age hoard: Identifying ephemeral traces of textiles in metal corrosion products, Mary Davis & Susanna Harris, Journal of Archaeological Science: Reports, Volume 48, 2023. (https://doi.org/10.1016/j.jasrep.2022.103796.)
Viking and Early Middle Ages Northern Scandinavian Textiles Proven to be made with Hemp, G. Skoglund, M. Nockert & B. Holst, Sci Rep 3, 2686 (2013). (https://doi.org/10.1038/srep02686)
View full details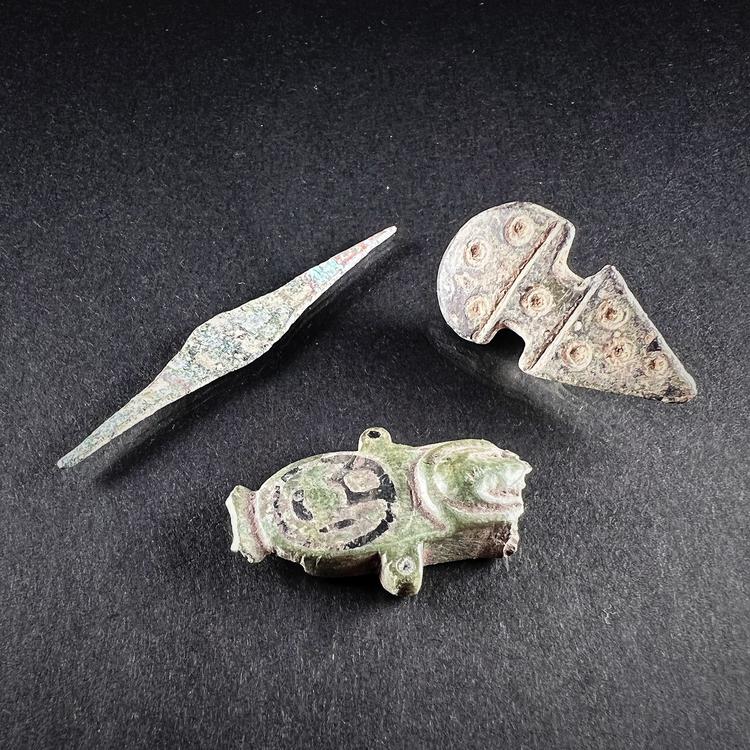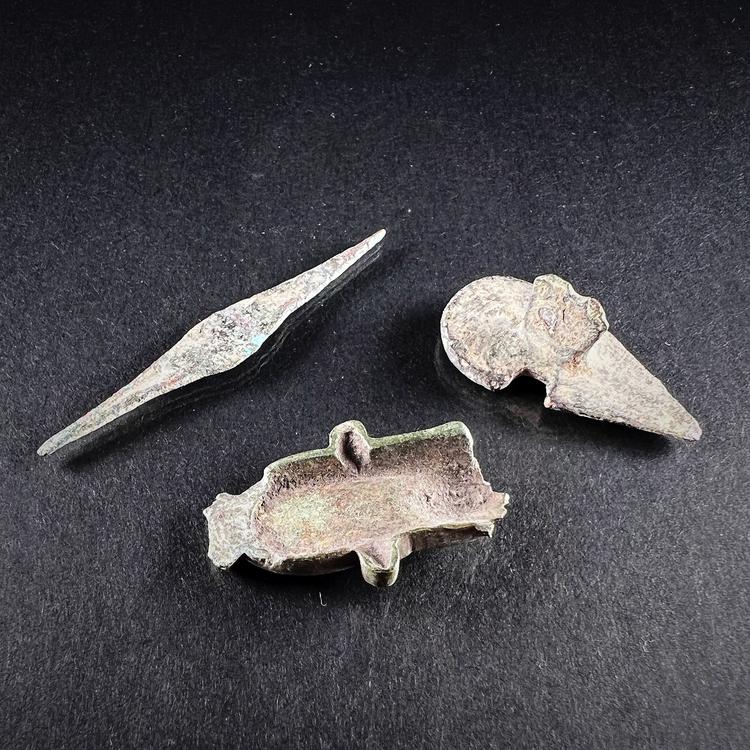 Shipping

The shipment will be prepared in the course of 3-5 days and dispatched via Posti Group Oyj or purchased item(s) can be picked up from our shop during the store's opening hours (Tarkk'ampujankatu 4, 00140, Helsinki, Finland). Within the Finland, all items are shipped via Posti Group Oyj unless otherwise requested. We pack the items carefully and mainly in recycled materials because we want to save nature. You will receive the tracking number for your items by e-mail.

Returns

Returns and exchange will be accepted within fourteen days (14) of receipt at the purchaser's cost to include freight and packaging. Items must be returned in the same condition as when they were shipped, and will not be accepted if damaged or altered in any way. Please inform us via email (info@gotanmaailma.fi) or by calling +358408408352 before sending. We do not accept returns more than 14 days after delivery.