Regular price
Sale price
$0.00
Unit price
per
Sale
Sold out
Share
Yoruba people, late 19th or early 20th century, probably Oyo Region, Nigeria, West Africa.
Mesmerizing finely carved old female twin figure, Ere Ibeji. The Yoruba people are an ethnic group that inhabits western Africa, mainly Nigeria, Benin, Togo and Ghana. Traditional Yoruba religious beliefs recognize a wide variety of deities (400 + 1 ), with Olorun or Olodumare venerated as the creator and other lesser gods serving as intermediates to help with the concerns of humans. Yoruba religion (Isese) is the basis for a number of religions in the New World, notably Santería, Umbanda, Trinidad Orisha, Haitian Vodou, and Candomblé. Its also shares some parallels with the Vodun practiced by the neighboring Fon and Ewe peoples to the west and to the religion of the Edo people to the east. In the Yoruba religion, after death the guardian soul arrives in the heaven and confesses to the Olodumare what it's done on Earth. The good souls will then be sent to the Good Heaven (Orun Rere). The souls of the wicked will be sent to the Bad Heaven (Orun Buburu) as punishment. Yoruba deities (Orisa) include wind goddess (Oya), divination or fate (Ifá), destiny (Eleda), twins (Ibeji), medicines and healing (Osanyin) and  goddess of fertility, protector of children and mothers (Osun) and the God of thunder (Ṣangó). 
Yoruba peoples have one of the highest birth rate of twins in the world, but also have a high mortality rate. As a result, twins are regarded as extraordinary beings protected by the Orisa God of thunder (Ṣangó) who is evoked at the baby's naming ceremony when he or she is a few months old. If a twin dies in infancy, the family have a wooden figure carved to represent the dead twin. The carving of the Ere Ibeji is commissioned under the guidance of an Ifa diviner, a Babalowo, and if both infants die, a sculptor creates two figures. Once the figure (or figures) are brought to the family dwelling, it is placed on a shrine dedicated to Esu with the hope that the Òri or soul, which was split in two parts when the twins were born, will now again reside in the figure that represents the dead twin. The mother provides ritual care to the figures, bathing, dressing, adorning, and feeding them. The figures are treated and cared for as if they were alive. They are kept standing during the day, and are laid down at night. The figures might also be rubbed in sacramental oil, decorated with camwood powder, blue indigo, beads, metal bracelets and anklets, shells, and precious textiles. In some places it is customary to apply a white chalk (efun), to the face of the figure. The Ere Ibeji figures represents a deceased infant, but is carved with features and attributes of an adult. The sculptural features of genitalia, pubic hair, wide hips, developed breasts, gender specific facial scarification and elaborate coiffures exude an erotic sexuality, uncommon for infants.  

Exceptional female twin figure stands with hands on thighs. It has elongated, strong arms, slightly bent knees and big feet with strong toes, raised on a ovoid base. Classical facial features with prominent almond-shaped eyes, full lips and symmetrical nose. Gorgeous stylized coiffure. The figure's head have been repeatedly bathed with indigo, symbolizing the calming of the spirit's inner being. Good condition. Deep dark brown polished patina. Traces of ceremonial use and handling over many years. Cracks and fractures. Worm holes. Remnants of camwood powder. Size approx. 26,0cm x 9,0cm x 7,7cm. 
Provenance: Finnish private collection
For a similar examples see:
Twin Figure: Female (Ibeji), The Metropolitan Museum of Art, Accession number: 1981.424.22 (https://www.metmuseum.org/art/collection/search/314429)
Twin Figures (Ere Ibeji), Art Institute Chicago, Accession number: 1982.1513-14 (https://www.artic.edu/artworks/189596/twin-figures-ere-ibeji)
Pair of Yoruba Twin Figures (ere ibeji), New Orleans Museum of Art, Accession number:  2007.155.1.1,.2 (https://noma.org/collection/pair-of-yoruba-twin-figures-ere-ibeji/) 
References and further reading:
Ibeji: The Cult of Yoruba Twins, George Chemeche, Publisher 5 Continents Editions, 2006.
Encyclopedia of the Ibeji, Fausto Polo, Ibeji Art, 2008.
The Historiography of Yoruba Myth and Ritual, Andrew Apter, History in Africa, Vol. 14, 1987, Published by Cambridge University Press, pp. 1-25.

The Yoruba, Art & Life in Africa, University of Iowa Stanley Museum of Art.
The Study of Yoruba Religious Tradition in Historical Perspective, Jacob K. Olupona, Numen, Vol. 40, No. 3, Sep., 1993, pp. 240-273.
Art of the Yoruba, Moyo Okediji, Art Institute of Chicago Museum Studies, Vol. 23, No. 2, African Art at The Art Institute of Chicago (1997), pp. 164-181+198.
Ibeji Images of the Yoruba, Marilyn Hammersley Houlberg, African Arts, Vol. 7, No. 1, Autumn 1973, Published by UCLA James S. Coleman African Studies Center, pp. 20-27+91-92.
View full details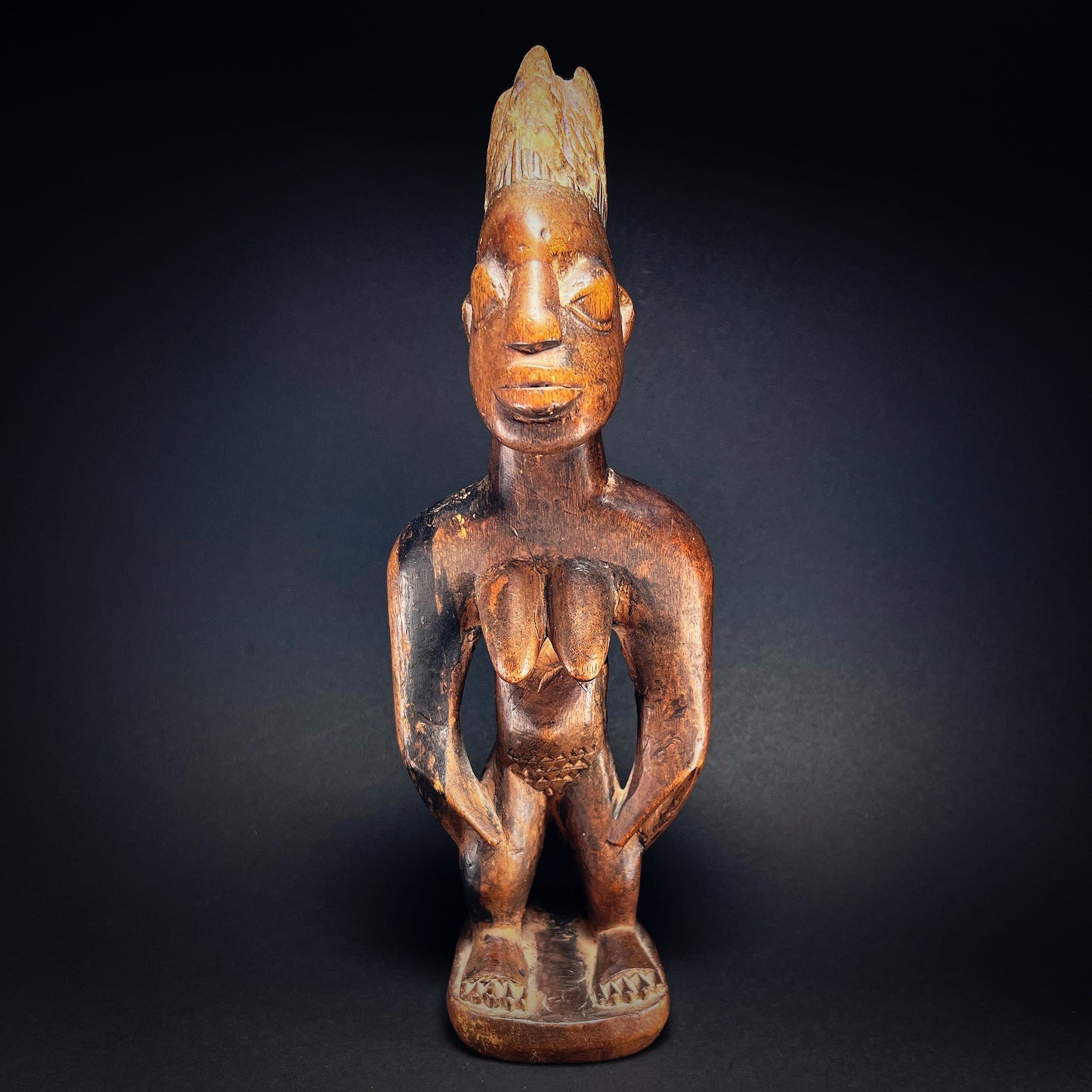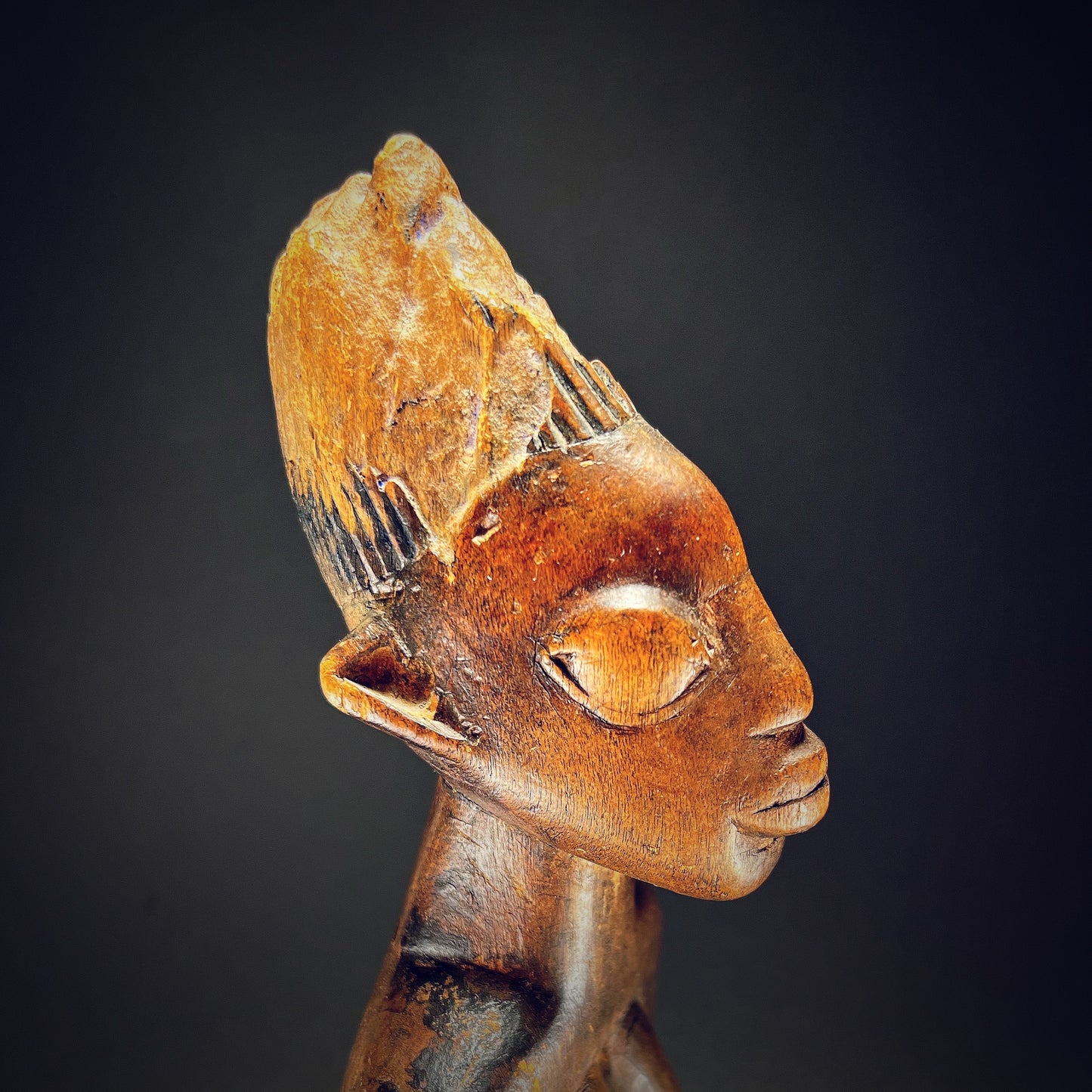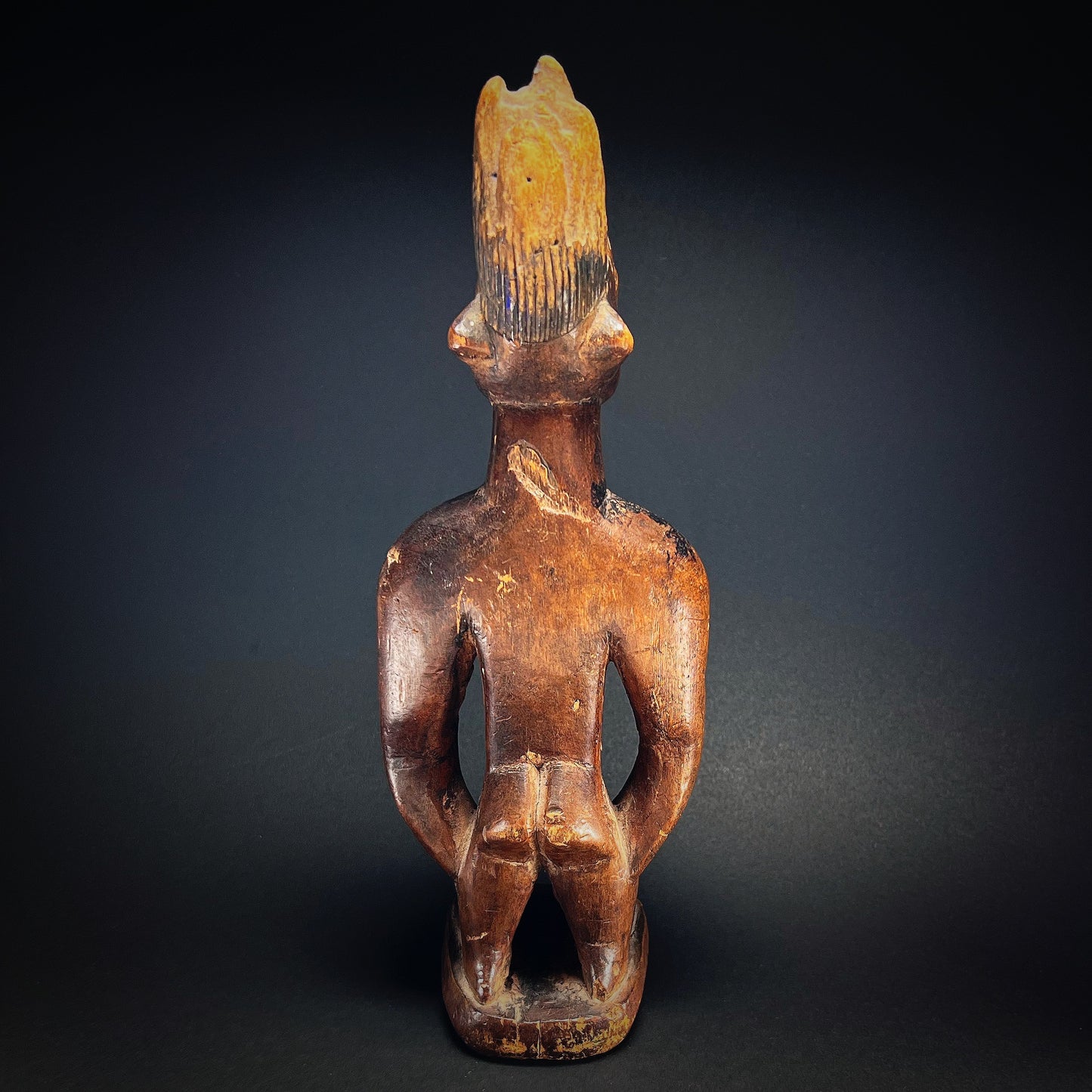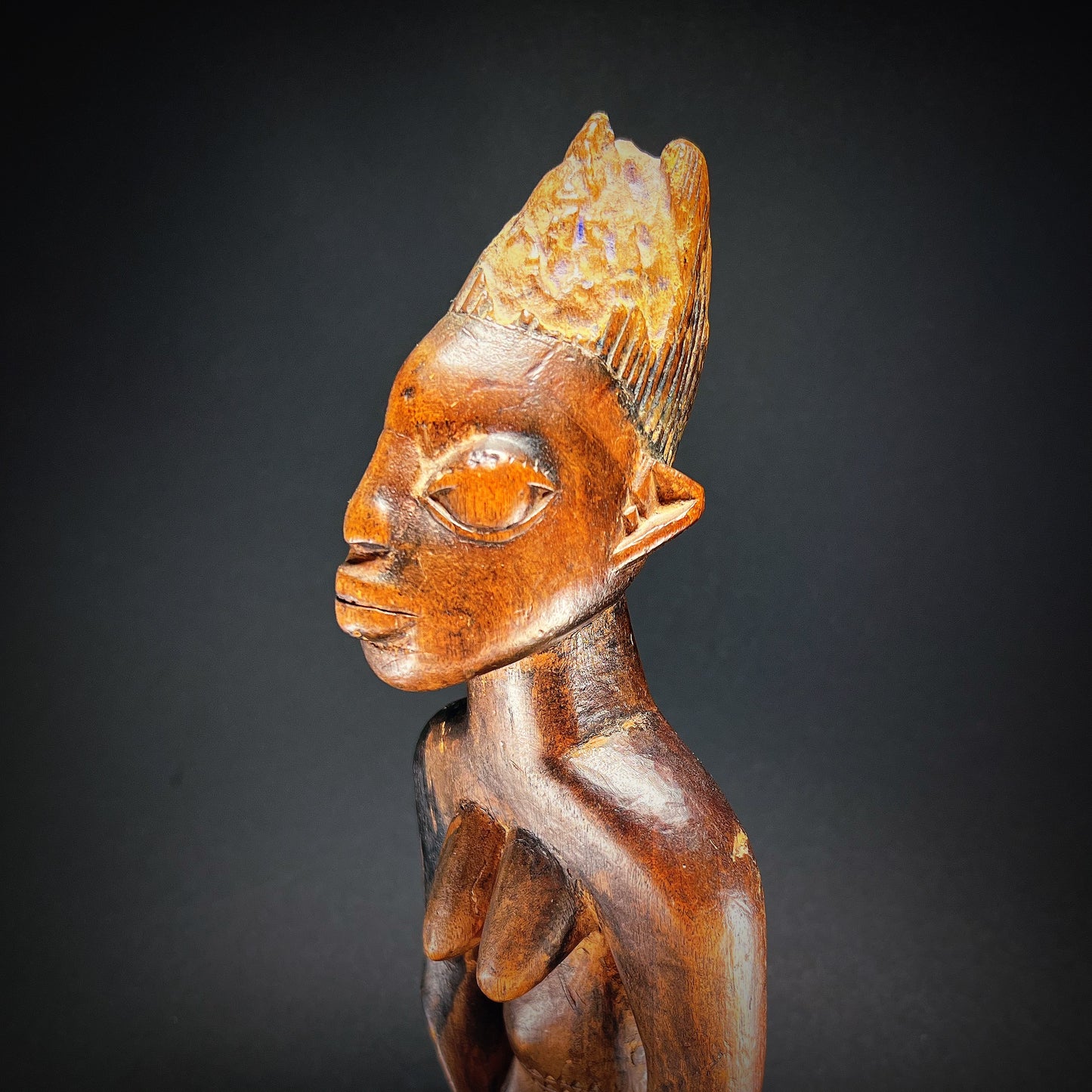 Shipping

The shipment will be prepared in the course of 3-5 days and dispatched via Posti Group Oyj or purchased item(s) can be picked up from our shop during the store's opening hours (Tarkk'ampujankatu 4, 00140, Helsinki, Finland). Within the Finland, all items are shipped via Posti Group Oyj unless otherwise requested. We pack the items carefully and mainly in recycled materials because we want to save nature. You will receive the tracking number for your items by e-mail.

Returns

Returns and exchange will be accepted within fourteen days (14) of receipt at the purchaser's cost to include freight and packaging. Items must be returned in the same condition as when they were shipped, and will not be accepted if damaged or altered in any way. Please inform us via email (info@gotanmaailma.fi) or by calling +358408408352 before sending. We do not accept returns more than 14 days after delivery.