Regular price
Sale price
$105.00
Unit price
per
Sale
Sold out
Share
Zulu people, early to mid. 20th century, 
South Africa.
Beautiful aged necklace made of thousands of small glass "seed" beads sewn onto a fabric rope. The vocabularity of Zulu beads extends to colors, with both positive and negative meanings. Green color (obuluhlaza) symbolizes new life, grass and lush pastures, but also illness and discord. Black color (obumnyama) symbolizes marriage and rebirth, but also death and mourning. Deep red color (obubomvu) means the fires of passionate love, and also serve as an indication of anger and pain. Only white is always positive: spiritual love, purity, virginity and chastity.
Zulu people are a Bantu ethnic group, probably the largest single population group in South Africa. They originated from Nguni-communities who took part in the Bantu migrations. The Zulu was originally a minor clan in what is today Northern KwaZulu-Natal, founded c. 1709 by Zulu Kantombhela. They are known for their strong fighting spirit which has fashioned renowed warriors in history including the likes of Shaka Zulu who played a prominent role in various Zulu wars. Related ethnic groups are Xhosa, Swazi and Nguni.
The rural Zulu economy is based on cattle and agriculture. Traditional Zulu religion includes belief in a supreme God or a supernatural being called Unkulunkulu (the greatest of the great), who "sprang from a bed of reeds" and created all wild animals, water and mountains, as well as the sun and moon. The strong belief are also formed around the presence of ancestral spirits (amadlozi, amathongo and abaphansi) who had the power to intervene in people's life, for good or ill. It is believed that all bad things, including death, are a result of evil sorcery or offended spirits. Traditionally, the Zulu recognize several elements to be present in a human being: the physical body (umzimba) the breath, or life force (umoya) and a spirit, or soul (idlozi). In addition, there is (inhliziyo) "heart or feelings", the brain, mind and understanding (ingqondo) and the shadow or personality (isithunzi). Once the umoya leaves the body, the isithunzi may live on as an ancestral spirit (idlozi), but only after important ceremony (ukubuyisa) has been performed, during which the spirit is "brought back home".
Zulu people are best known for their beautiful brightly colored beadwork and basketry. Beadwork is a form of communication for the Zulu people. Typically when one is wearing multiple beads, it is a sign of wealth. The more of beads one is wearing, the wealthier they are perceived. The beads have the potential to convey the information about a person's age, gender and marital status. The design and the colours of the beads often conveys a particular message. Beadwork can be worn everyday use, but is often worn during the important ceremonies such as weddings, rituals such "coming out" (umemulo), and "reeds ceremony" (umkhosi womhlanga), or dances.
Necklace are in moderate condition. Signs of handling and wearing over the years. Lovely patina. The circumference of the necklace approx. 85,0cm and thickness c. 1,5cm.
Provenance: Dutch private collection
References and further reading:

The Language of Beads, Bob Burch, Africa Direct/Travel Africa Edition Eleven, Spring 2000.
The Zulu of Africa, N.Gleimius, E.Mthimunye, E.Subanyoni, Lerner Publications Company, Minneapolis, 2003.
Meaning Behind The Use And Wearing Of Traditional Beadwork At Msinga Area, Bonisile Pretty Khethiwe Zungu, Faculty of Arts, University of Durban-Westville, September 2000.
Colour Metaphor in Zulu Culture: Courtship Communication in Beads, Biyela N.G. University of Zululand, American International Journal of Contemporary Research, Vol.3, No. 10, October 2013.
View full details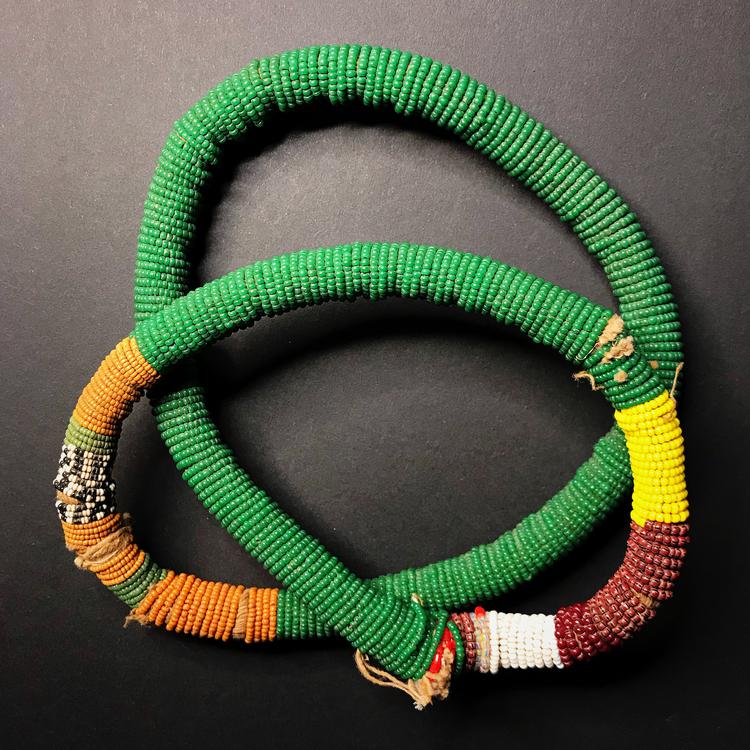 Shipping

The shipment will be prepared in the course of 3-5 days and dispatched via Posti Group Oyj or purchased item(s) can be picked up from our shop during the store's opening hours (Tarkk'ampujankatu 4, 00140, Helsinki, Finland). Within the Finland, all items are shipped via Posti Group Oyj unless otherwise requested. We pack the items carefully and mainly in recycled materials because we want to save nature. You will receive the tracking number for your items by e-mail.

Returns

Returns and exchange will be accepted within fourteen days (14) of receipt at the purchaser's cost to include freight and packaging. Items must be returned in the same condition as when they were shipped, and will not be accepted if damaged or altered in any way. Please inform us via email (info@gotanmaailma.fi) or by calling +358408408352 before sending. We do not accept returns more than 14 days after delivery.