Regular price
Sale price
$533.00
Unit price
per
Sale
Sold out
Share
Zulu people, late 19th century, 
South Africa.
Superb assegai throwing spear. This spear type was one of the most common weapon in Africa prior to the introduction of firearms. The design is relatively light, with a heavy tapered blade. This spear was intended as a throwing weapon, meant for long and mid-range combat. It was the prototype for the later Iklwa spear, as later popularized by Shaka Zulu. Zulu people are a Bantu ethnic group, probably the largest single population group in South Africa. They originated from Nguni-communities who took part in the Bantu migrations. The Zulu was originally a minor clan in what is today Northern KwaZulu-Natal, founded c. 1709 by Zulu Kantombhela. They are known for their strong fighting spirit which has fashioned renowed warriors in history including the likes of Shaka Zulu who played a prominent role in various Zulu wars. Related ethnic groups are Xhosa, Swazi and Nguni.
The rural Zulu economy is based on cattle and agriculture. Traditional Zulu religion includes belief in a supreme God or a supernatural being called Unkulunkulu (the greatest of the great), who "sprang from a bed of reeds" and created all wild animals, water and mountains, as well as the sun and moon. The strong belief are also formed around the presence of ancestral spirits (amadlozi, amathongo and abaphansi) who had the power to intervene in people's life, for good or ill. It is believed that all bad things, including death, are a result of evil sorcery or offended spirits. Traditionally, the Zulu recognize several elements to be present in a human being: the physical body (umzimba) the breath, or life force (umoya) and a spirit, or soul (idlozi). In addition, there is (inhliziyo) "heart or feelings", the brain, mind and understanding (ingqondo) and the shadow or personality (isithunzi). Once the umoya leaves the body, the isithunzi may live on as an ancestral spirit (idlozi), but only after important ceremony (ukubuyisa) has been performed, during which the spirit is "brought back home".
An exceptional late 19th century assegai spear with long finely flattened steel blade mounted with a tight woven bound sinew binding on to a thin polished hardwood shaft. Good condition. Age-related wear. Finely made steel blade with roughened spots, rust and deep dark age patina. Long shaft with rich brown patina and few minor worm holes. The size of the spear blade c. 33,5cm x 2,5cm, overall 152,5cm.

NB! Due to the length of the spear we do not ship this item. Pick-up from the shop.
Provenance: Swedish private collection
References and further reading:
The Zulu of Africa, N.Gleimius, E.Mthimunye, E.Subanyoni, Lerner Publications Company, Minneapolis, 2003.
The Earth and Its Peoples, Bulliet, US: Houghton Mifflin Company, 2008, p. 708.
Zulu, Sue Derwent & Barry Leitch, Cape Town, South Africa: Struik Publishers, 1998.
Lord of the Sky-King of the Earth: Zulu traditional religion and belief in the sky god, Irving Hexham, Studies in Religion, University of Waterloo, 1979.
Zululand and the Zulus: their history, beliefs, customs, military system, home life, legends, etc., etc., and missions to them, James Anson Farrer, Kerby & Endean, Londres, 1879.
View full details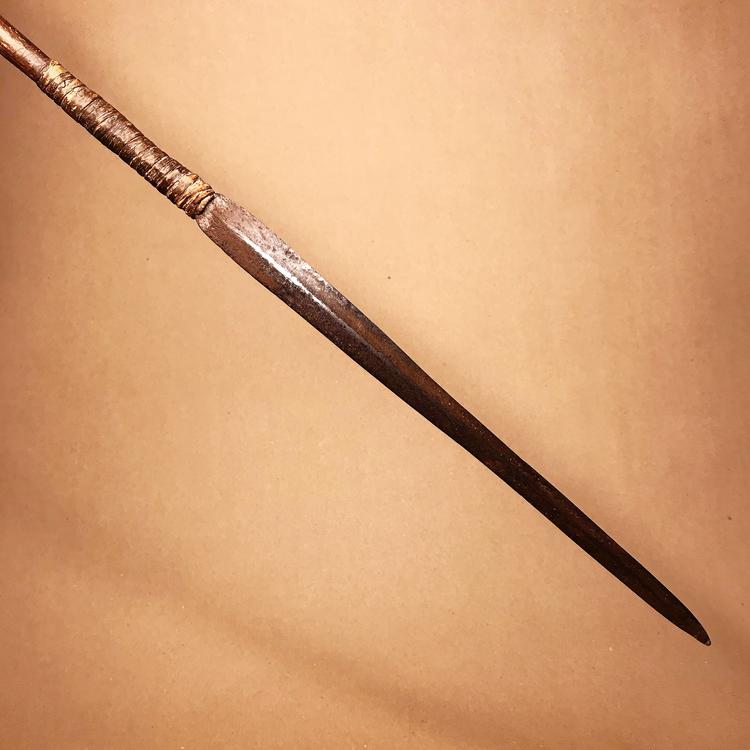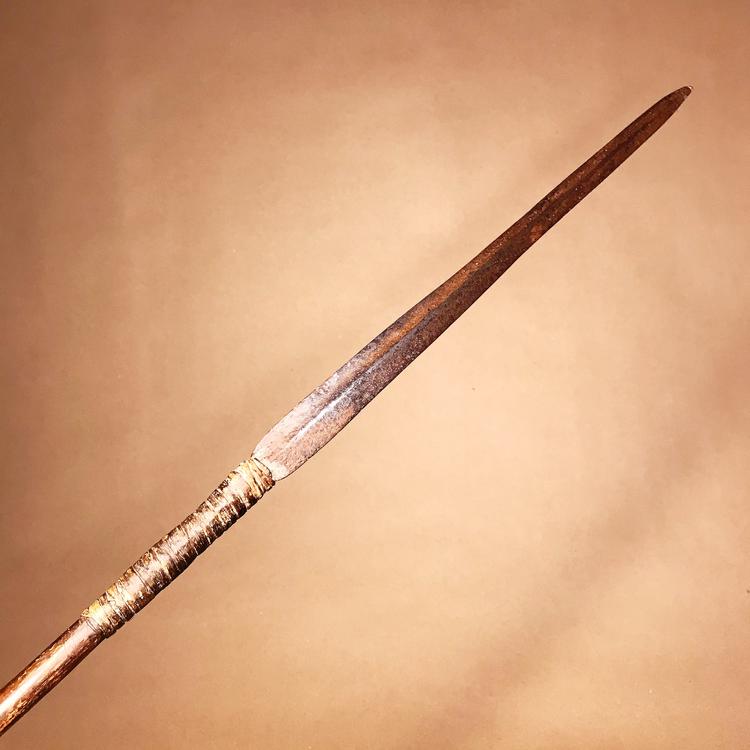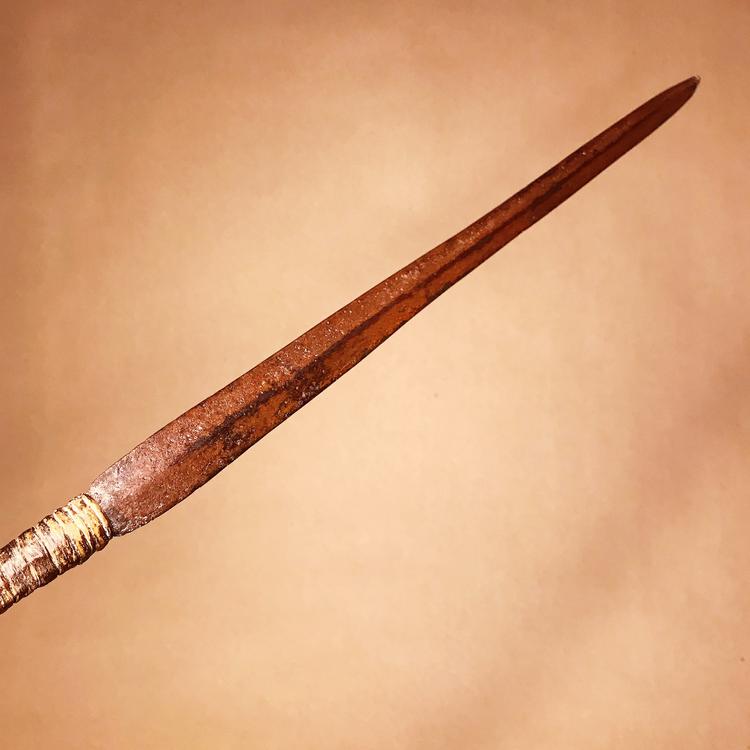 Shipping

The shipment will be prepared in the course of 3-5 days and dispatched via Posti Group Oyj or purchased item(s) can be picked up from our shop during the store's opening hours (Tarkk'ampujankatu 4, 00140, Helsinki, Finland). Within the Finland, all items are shipped via Posti Group Oyj unless otherwise requested. We pack the items carefully and mainly in recycled materials because we want to save nature. You will receive the tracking number for your items by e-mail.

Returns

Returns and exchange will be accepted within fourteen days (14) of receipt at the purchaser's cost to include freight and packaging. Items must be returned in the same condition as when they were shipped, and will not be accepted if damaged or altered in any way. Please inform us via email (info@gotanmaailma.fi) or by calling +358408408352 before sending. We do not accept returns more than 14 days after delivery.